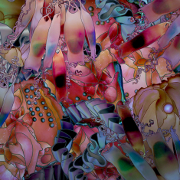 Mei Zhiyong
Live in Switzerland
AR-LP-007
"Exploring the nature of the way, the body is a tool, thought is a program. All the manic, quiet, extreme, abnormal have been preset by procedures and tools, noise is the carrier of breaking all the rules, only impaling nothingness will real make you get rid of the contradiction between voice and body, between body and mind." That's how Mei Zhiyong describes his work and anybody having witnessed one of his performances can only agree. Mei Zhiyong is without doubt one of today's most exciting live act in the noise scene and aussenraum records is proud to present two performances on this LP. Following Mei's first Europe Tour in 2015 ("Ritual Protest Music", together with Dave Philipps) we selected Mei's second and last performance for this LP. First, a concert in Geneva's cave12 and then, around a month later, Mei's appearance at the Lausanne Underground Film Festival. The recordings are raw and un-treated; some would consider them as "not cut-able on vinyl" but thanks to the mastery of cutter Flo Kaufmann one can now listen to Mei's astonishing work on vinyl. The cave12 performance contains fragments of human utterances and abrupt changes whereas at LUFF the audience was exposed to a constant assault with more fluid transitions and even rhythmic patterns. Both concerts are a good example of Mei's excellent control of his equipment and improvising capabilities.
300 copies on 180g red vinyl with a cover by Flokim Lucas.
Excerpt:
Buy: Europe €20.00 World €24.00
Buy together with other aussenraum LPs and save money! Rates
Reviews: Vital Weekly 1056, Bad Alchemy 92, improv sphere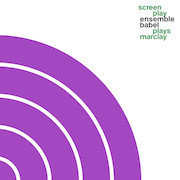 ensemBle baBel
screen play ensemble babel plays marclay
AR-LP-006 (2xLP)
Vernissage was on 25. June 2016 at Nuit des images in Lausanne. Live concert in presence of Christian Marclay.
EnsemBle baBel has been collaborating with Christian Marclay since 2012. On this double LP we can hear three compositions: Screen Play, Shuffle and Graffiti Composition. Screen Play is a moving image musical score in which found film footage is combined with computer animation to create a visual projection to be interpreted by live musicians. One of the ways that performing a visual score differs from performing tradition musical notation is that the musician cannot read ahead to anticipate what comes next. With Graffiti Compositions ensemble baBel interprets a graphical score. End of the last century Christian Marclay posted blank music sheets around the streets of Berlin. After they had been covered with graffiti 150 sheets had been assembled to form a graphical music score. Finally, with Shuffle Christian Marclay explores the presence of music as graphics in our daily lives - a musical score compromised of photographs printed onto a deck of cards.
300 copies 180g Vinyl double LP, cut by Flo Kaufmann, cover by Francis Baudevin and Nicolas Eigenheer.
Excerpt:
Buy: Europe €32.00 World €37.00
Buy together with other aussenraum LPs and save money! Rates
Reviews: le son du grisli, Bad Alchemy 92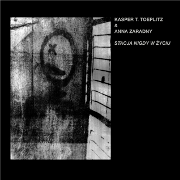 Kasper T. Toeplitz
and
Anna Zaradny
Stacja Nigdy w Zyciu
AR-LP-005
NEVER-NEVER-NEVER: The ultimate cry for freedom, not a revindication, not a position, but the fullness of dreams: the will to do it, do whatever, the way I want. Not even do, no hopes, no future, just the state of "NOW", will not change will not move, you can do whatever you want I NEVER - JAMAIS! - will and not even shall I listen to you. You can torture me, don't feel the pain, don't even care. NEVER never even was a close cousin to "NO", NO is statement NO is rebellion, NO is a position, against, not good, try something else, no good, a proposition, when NEVER is just pure dreaming, alone in space, no past, no nothing - NEVER lets you change your mind as often you only want, no consequences, since NEVER made it happened, I NEVER said anything like this and who are you and what are you talking about? NEVER puts this sound, any sound, in front of that one, or follows it, just because, no rules, no esthetics, concerts for empty rooms - JAMAIS de la vie! - you have not seen it and maybe there was nothing to see and when was it after all. NIGDY w zyciu, and you can't prove it anyhow. You can't argue with a dream. Never, never in (your) life. 
Two pieces, seemingly appearing out of the void, culminate - and fade away. It's at "Station Never in Life" ("Stacja Nigdy w Zyciu" in Polish) where Kasper T. Toeplitz and Anna Zaradny meet for their first duo LP. At the station we experience their music like giant wagon trains slowly passing by. Incredible rich textures emerge and disappear again - a permanent reconstruction, an architecture of loss. The recording features Anna Zaradny on saxophone, playing the instrument in her unique way emanating sounds you might have never heard before and Kasper T. Toeplitz on bass as well as both of them using computers. This is at the same time and old project and a brand new one, or perhaps one in perpetual becoming: the two artists have already played together in many occasions in the past, but this time it is a project for a long-term collaboration, a way to explore the passing of time, trying new forms each time, working on the architecture of the proposed music but also the one of the venue in which the sounds will exist: a perpetual reconstruction of a crushed architecture.
300 copies on 180g vinyl, cut by Flo Kaufmann, cover by Coste-nine.
Excerpt:
Buy: Europe €20.00 World €24.00
Buy together with other aussenraum LPs and save money! Rates
Reviews: a closer listen, Vital Weekly, zdzwiekiem, le son du grisli, FÖRDÄMNING #10, Bad Alchemy 90, The Sound Projector, STILL SINGLE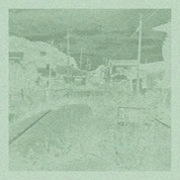 Bruno Duplant
fictions
AR-LP-004
Musique Concr&egravete
Two major nuclear disasters, Tchernobyl and Fukushima, left its traces in our collective memory. Their devastating impact on the immediate environment left behind the ghost towns of Prypiat and Futaba. French sound artist Bruno Duplant never visited these exclusion zones. He took their existence as a starting point for an electroacoustic composition to investigate the relationship between fiction and reality. Sonic journalism like Peter Cusack's "Sounds from dangerous places" documents the reality of exclusion zones. Bruno Duplant tries to translate the reality of such zones into fiction by using sounds which originally had no relation with these places. Two compositions of same length, one on Prypiat, the other on Futaba. Fiction as testimony of a reality easily forgotten, buried in silence. Fiction as recollection. Cover by Walter Methlagl, mastered by Giuseppe Ielasi. 300 copies on 180g vinyl.
Excerpt:
Buy: Europe €20.00 World €24.00 (all prices incl. shipping)
Buy together with other aussenraum LPs and save money! Rates
Reviews: neural, vital weekly, le son du grisli, The Sound Projector, FÖRDÄMNING #10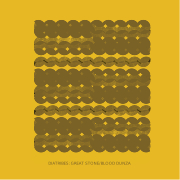 Diatribes
Great stone/Blood dunza
AR-LP-003
Electroacoustic
Diatribes deconstruct two classical roots reggae tunes from the 1970's. The sources are extended to an electro-acoustic approach resulting in two highly detailed textures of completely different character. Spring reverbs, noises, chords and even rythm fragments appear and disappear. 300 copies on 180g vinyl, cut by Flo Kaufmann.
Excerpt:
Buy: Europe €20.00 World €24.00 (all prices incl. shipping)
Buy together with other aussenraum LPs and save money! Rates
Reviews:
"If you like really intricate, minimalist drone, this may be up your alley" - Chain D.L.K.
"... fascinating new record" - The Sound Projector
"The end result is a pioneering and fascinating work that gives strong clues to its origins, but there is clearly still scope for Diatribes (or others) to pursue further the pathways that have opened up with this milestone release." - All About Jazz
"il s'agit ici, [...], d'une musique essentielle aujourd'hui car d'aujourd'hui, véritablement." - Kasper T. Toeplitz in Présent Continu
"... as pieces of experimental electroacoustic music built around a consideration of individual timbres and their relations, these two tracks more than pull their weight." - Nathan Thomas in Fluid Radio
"Diatribes signe l&agrave une r&eacutef&eacuterence indispensable de sa discographie." - Guillaume Belhomme in le son du grisli
"This is an absolutely great record!" - Vital Weekly 978
"Do check it out, regardless of dub experience" - Just outside
"Hier richten sich die Psi-Kräfte darauf, die Fundamente ihrer Tempel erzittern zu lassen." - Rigo Dittmann in Bad Alchemy 85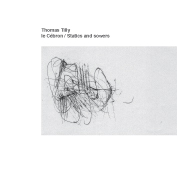 Thomas Tilly
le Cébron / Statics and sowers
AR-LP-002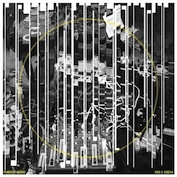 Francisco Meirino
and
Kiko C. Esseiva
Focus On Nothing On Focus
AR-LP-001
Electronic, Musique Concr&egravete
A unique work stemming from a studio collaboration between Francisco Meirino and Kiko C. Esseiva. Using the same source material each artist composed one side of the LP. Assembled in 2012 and 2013 from hours of multitrackrecordings using reel-to-reel tape recorders, emf detectors, piezo trancducers, analogue synths and various homemade sound objects. Discover, compare, enjoy the work of these two sound artists!
High Quality 180g Vinyl with excellent sound - not at least due to the cut done by Flo Kaufmann. Numbered edition of 300 copies.
Two excerpts:
Buy: Europe €20.00 World €24.00 (prices incl. shipping)

Buy together with other aussenraum LPs and save money! Rates

Reviews:

"Great Record, fine start for a label" - Vital Weekly 898

"This approach yields a completely different experience, yet obviously both sides of the disc are united by their common provenance. Differences aside each promise is fulfilled in its singular entirety." - The Field Reporter 311

"A fine work, bleak and fascinating." - Just Outside

"Deux très belles pièces d'art sonore électroacoustique, qui proposent deux directions et deux formes de travail possible du son. C'est riche, très inventif, soigné, travaillé, et beau." - improv sphere

"Worth seeking out." - Brian Beaudry on Discogs; see also Soundscape broadcast from January 15, 2014.

"On ne s'ennuie pas." - Ring-modulation (Kasper T Toeplitz) in Revue&Corrigée 98

"Perfekt gepresste Split-LP." - Bad Alchemy 83

Below are the rates for ordering several LPs. Please state in the PayPal message which LPs you want. All prices include shipping. AR-LP-006 (double LP) counts as 2 LPs.

5 LPs: Europe €60.00 World €65.00

4 LPs: Europe €49.00 World €56.00

3 LPs: Europe €41.00 World €46.00

2 LPs: Europe €32.00 World €37.00